"I never really loved Los Angeles until I lived here," admits former Torontonian Shereen Arazm. With a stunning two-storey Spanish Colonial Revival-style home and a garden bursting with pudgy pomegranates, glossy avocados, a regal fig tree, wild strawberries and an organic vegetable patch complete with a selection of herbs, it's easy to imagine how this place could literally grow on you.
After owning abodes in Florida and on LA's storied Mulholland Drive, Shereen and her husband, Oren Koules, along with their daughters, six-month-old Neve and Sam, 4, and Oren's son, 17-year-old Miles, made the move to Hancock Park, an affluent area dating back to the 1920s. "Hancock Park is very much a neighbourhood like you'd find in Toronto. Before, we were up in the hills with no sidewalks and it didn't feel as family oriented. This house has really changed my perspective," she says.
Shereen is smitten with the eight-bedroom home, even though she and her husband weren't drawn to it initially. "This house has a Tuscan/Spanish vibe, which wasn't our style," she says. "But I really love it now because the look is original. I like that the old is combined with contemporary style furniture and art – it's difficult to straddle the line between the two, but it's done here very successfully." She credits the superlative design to Toronto stylist and designer Lara McGraw, a childhood friend who worked on the couple's other homes.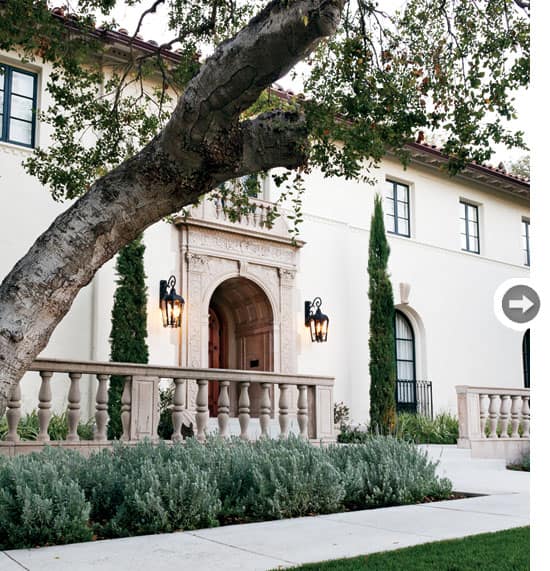 Home renovation challenges
Along with upgrading the interior, the reno also entailed adding a pool and refurbishing the home's exterior and gardens. The biggest design challenge, says Lara, was dealing with the home's size. "It's spacious, so filling it up wasn't easy," she says. But despite its grandness, the home remains exceptionally inviting.


Foyer

The couple loves
collecting pop art. The "OK" artwork by Ed Ruscha, which happens to be Shereen's husband's initials, hangs in the
front foyer for impact.



Living room

The frame of the formal living room's circular
chandelier complements the other wrought-iron elements throughout the home, while the glass drops evoke a glamorous vibe. Small doses of colour appear in the
decor accessories, artwork and
fresh blooms. Homeowner Shereen Arazm had the charming artwork above the fireplace commissioned specifically for this room.



Dining room

Wooden elements like the framed mirror, clean-lined
dining table, handcrafted sideboard and sculptural legs of the
dining chairs add a sense of warmth to the spacious dining room.



Traditional architecture

In the
dining room, traditional architectural details are juxtaposed with
Mid-Century Modern furniture to elegant effect.



Kitchen

In this
chef's kitchen, big really is better – there's plenty of room to spread out ingredients on the
kitchen island. The unfussy kitchen has every gadget a cook would want, including a wine fridge and stainless steel Sub-Zero fridge, freezer and refrigerated drawers. A large bank of cabinets on the opposite side of the room houses a Miele espresso machine, microwave and toaster oven. Shereen calls her double Wolf range her "big daddy oven".



Banquette seating

Banquettes are ideal when you never know how many people are coming for dinner, which is often the case with this social bunch.



Natural light

To maximize light, a transom window was added over the doors, leading to the terrace.



Terrace

A grouping of round hanging mirrors looks casually chic on the covered terrace. Cotton canvas drapes provide perfect protection for an
alfresco retreat and entertaining. When closed, they create an intimate and elegant atmosphere.



Poolside lounge

Low-profile indoor-
outdoor furniture by the pool has a contemporary Californian vibe. Coach-style lamps add character and provide ambient light.



Archways

Archways are a salient feature of moorish architecture.



Mid-Century Modern decor

Despite its grandness, the home remains exceptionally inviting. Rooms are
decorated in greys and whites to allow the Mid-Century Modern furnishings to pop. The iconic pieces "add something beautiful on their own, like sculptures," says Lara. The sassy brass Sputnik-inspired piece is from the couple's previous home.



Master bedroom

Mounting the retracting task lights in the master bedroom gives the room an unencumbered look. Other unassuming touches include the drapery, bed linens,
throw pillows and rustic bench.



Bedroom seating area

The master bedroom has a separate seating area where the couple can unwind. A Noguchi
coffee table and Arco floor lamp underscore their preference for simple, timeless pieces.


Simple and harmonious

The power of simple
home decor accessories is shown to great effect in the
master bedroom. A series of chromogenic prints by Daniele Albright, a boxy tufted armchair, handsome dresser, stone bowl and white shag rug (for texture and warmth) work in harmony. The small silver pulls – a detail picked up on the chair legs – gently sparkle in the daylight.